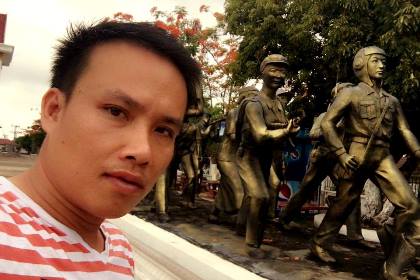 Bounlisth
I'm the owner of the Nakai Resort. I also run the tour company BL Travel Tour based in Vientiane, and soon with an office in Thakhek.
I'm married with Bountun and we're proud parents of three sons: Bank, Ben, Bim.
We love spending time together, and having fun in our Resort where we await you with open arms!
BL Travel
Resort
We're located in a strategic point of the Thakaek Loop, surrounded by pristine nature and close to a beautiful lake.
The place offers 21 rooms for up to 4 people, and a camping area with tents. There is a meeting room and a spacious outdoor dining room, suitable for every event. All rooms have air conditioning, TV and free drinking water.
Explore
The team
We're a great family team, always ready to welcome you and make you feel like home. We're always available for a talk, for a fun karaoke evening or for a challenge to a game of petanque.
Our team is often enriched by international volunteers from all over the world that help us make our Resort an even better place.
Workaway
Holiday Activities & Ideas

Endroit agréable tenu par une famille d'une très grande sympathie.
Nous nous sommes arrêtés à l'occasion de la fameuse boucle de Thakkhek. La nourriture du restaurant est aussi très bonne.
... read more /> Cet endroit mérite vraiment plus de visiteurs ! Plus

741augustinr


January 21, 2019
Cela ressemble à un hôtel pour les touristes Chinois. Un grand espace extérieur avec une énorme dalle de béton donne un air plutôt hostile au lieux. C'est froid et sans... read more chaleur. Chambre spacieuse pour un prix modique. Pas de confort supplémentaire dans la chambre. Nous nous sentons un peu seul. ATTENTION , à côté du restaurant ils ont créé ce qui ressemble à une boîte de nuit, et ils sont capable de mettre la musique à fond même quand il y a personne. Si le week end il y a des locaux cela doit être l'enfer. Désolé pour eux car ils sont gentil mais je ne conseil pas .

phil42


March 4, 2020

Super séjour dans cet ancien hotel dédié au gouvernement. Situé sur la boucle de Thakhek, il permet de prendre une bonne douche chaude et dormir au frais avec la clim.... read more Des petits bungalow avec vues sur le Lac en prime !

Foncez !!!

j_r_myd208


October 23, 2017
Facilities of Nakai Resort
Call us at
Mobile: +856-20 5558 1511
Reception: +856-51 214 911